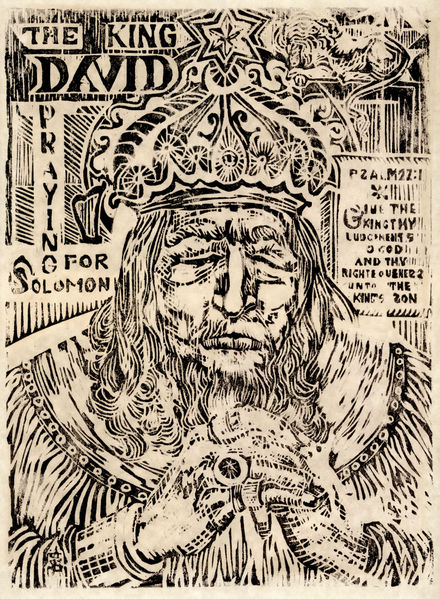 "The King David praying for Solomon" by Shirley Swanson
O Lord, rebuke me not in your anger,
nor discipline me in your wrath.
Be gracious to me, O Lord, for I am languishing;
heal me, O Lord, for my bones are troubled.
My soul also is greatly troubled.
But you, O Lord--how long?
Turn, O Lord, deliver my life;
save me for the sake of your steadfast love...
I am weary with my moaning;
every night I flood my couch with my weeping.
My eye wastes away because of grief;
it grows weak because of all my foes...
The Lord has heard my plea;
the Lord accepts my prayer.
David was a man of prayer, as indicated by the 150 Psalms that were recorded as God's Word to mankind. Some were Psalms of praise, but many were cries to the Lord for help. David did not live an easy life, even though he was a man after God's own heart. And neither are we to think that we should live a life of ease. If you have lived any length of time, you know that there are many trials in this life on earth.
This was obviously one of those times of trial for David. His enemies encroached on every side. His groanings to the Lord were many, and he even cried out to Him, "How long?" It seemed they would never end at this point. He was tired; he cried so much that his eyes felt like they were "wasting away" because of his grief.
But in verse 9 David has a burst of confidence in the Lord. It seems that he was able to say in his heart of hearts, "Just you wait, enemies of myself and God!" Why? Because he knew that God--his God--had heard his cries to heaven.
Don't give up, Pilgrim. Cry out with a pure heart to the Father who hears. Keep crying out. Just you wait! Along with David, we can say,

"The Lord has heard my plea; the Lord accepts my prayer."

Someone once wisely said, "God is seldom early, but He is never late!" Our hope is in the Lord.