What does the root system look like?
What good is it, my brothers, if someone says he has faith
but does not have works? Can that faith save him?...
But someone will say, "You have faith and I have works."
Show me your faith apart from your works,
and I will show you my faith by my works...
For as the body apart from the spirit is dead,
so also faith apart from works is dead.
The apostle Paul said, "For by grace you have been saved through faith, and this is not of your own doing; it is a gift of God, not a result of works, than no one should boast."
Do we have a problem here? Is James arguing with Paul, saying that not grace through faith but works is the means to salvation? Obviously not! God cannot and will not contradict Himself, and He is the One who inspired both Paul and James to pen His Word. So what do we make of this?
Someone once summarized very nicely the marriage of the two ideas:
Faith is the root
Works are the fruit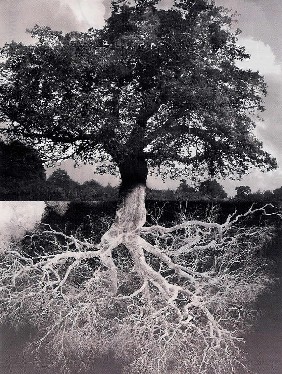 Look at these roots!
Take a look at the tree above. Without the root system there would be no branches, no leaves, no fruit. But without the branches and leaves and fruit the root system would eventually die. The same applies to faith. A faith that never produces the fruit of good works, whether it be evangelism, caring for orphans and widows, or doing acts of service for others--will eventually prove itself to be an unsaving faith that really had no vital root to begin with.
"It is faith alone that saves,
but the faith that saves is never alone."
(I tried to find the originators of these little quotes but couldn't. If you know who said them, let me know!)
As we show our faith by our works,